ST PAUL St Cathedral
Thursday, 08 Aug, 10 a.m.
All events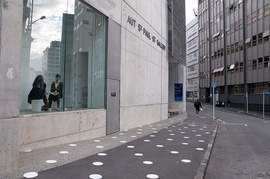 Lecture. By registration only
ST Paul St
Thursday 8th August - Friday 9th August.
The St PAUL St Gallery 2013 Curatorial Symposium is a two-day event dedicated to discussing curatorial practice. Conversations from the 5th Auckland Triennial will feed into the event as well as a larger concern looking at the history of exhibition making in the Asia Pacific region. Various national and international curators will contribute to this event through papers and round table discussions.
The Symposium is divided into two sections. The first will examine exhibition histories from the Asia Pacific region as part of a project initiated by Biljana Ciric through a series of papers and discussions. The second half will be dedicated to roundtable discussions and presentations in response to contemporary curatorial concerns as well as reflecting on the context of the 5th Auckland Triennial, If you were to live here…. The ST PAUL St Gallery 2013 Curatorial Symposium is decidedly local and consciously positioned within the geo political situation of the Asia Pacific.
Attendance to the Symposium sessions are upon registration only. Registrations have now closed. If you are still interested in attending and wish to go on the waiting list please email stpaul.gallery@aut.ac.nz
ST Paul St
ST PAUL St is a suite of purpose built galleries and project spaces run by the School of Art and Design, AUT University. The programme of exhibitions, screenings, performances and events profiles both emerging and established artists and designers from New Zealand and internationally. Established in 2004, ST PAUL St Gallery has developed into one of the leading contemporary art and design galleries in New Zealand.
10 am - 5 pm Tuesday to Friday, 12 pm - 4 pm Saturday
Level 1 WM Building, 40 St Paul Street School of Art and Design, AUT University
stpaul.gallery@aut.ac.nz
09 921 9999
Map