Symposium Keynote Lecture: Jens Hoffmann – The show must go on
Wednesday, 07 Aug, 5:45 p.m.
All events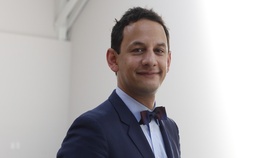 Lecture. Attendance by registration only
Auckland Art Gallery
Jens Hoffmann has curated more than 50 exhibitions internationally and written over 300 texts on art and exhibition making since the late 1990s. Since 2012 he has been deputy director of the Jewish Museum in New York and was co-curator of 9th Shanghai Biennial at the Power Station of Art in 2012-2013. He has also been involved in curating the 12th Istanbul Biennial in 2011 (with Adriano Pedrosa), the People's Biennial in 2010-11 (with Harrell Fletcher), the 2nd San Juan Triennial in Puerto Rico in 2009, the 9th Lyon Biennial in 2007, Manifesta 4 in Frankfurt in 2002, and the 9th Caribbean Biennial in 1999 (with Maurizio Cattelan). In 2009 he founded The Exhibitionist: A Journal on Exhibition Making, has been editor-at-large for Mousse magazine since 2011, and is a frequent contributor to Frieze. Hoffman has also been an adjunct professor at the Nova Academia di Bella Arti in Milan since 2004, an associate professor at the Graduate Program in Curatorial Practice at California College of the Arts in San Francisco from 2006-2012, and a lecturer at the MFA in Curating Program at Goldsmiths, University of London from 2003-2009.
The ST PAUL St Gallery 2013 Curatorial Symposium is divided into two sections. The first will examine exhibition histories from the Asia Pacific region as part of a project initiated by Biljana Ciric through a series of papers and discussions. The second half will be dedicated to roundtable discussions and presentations in response to contemporary curatorial concerns as well as reflecting on the context of the 5th Auckland Triennial, If you were to live here…. The ST PAUL St Gallery 2013 Curatorial Symposium is decidedly local and consciously positioned within the geo political situation of the Asia Pacific.
Attendance to the Symposium sessions are upon registration only. Registrations have now closed. If you are still interested in attending and wish to go on the waiting list please email stpaul.gallery@aut.ac.nz
Auckland Art Gallery
Auckland Art Gallery Toi o Tāmaki is New Zealand's premier art gallery. The Gallery leads the Auckland Triennial and was a founding partner in the event. It is proud to foster art practice through the commissioning of new artists' projects, and to present contemporary art in a national and international context. The multi award-winning Gallery building is also home to collections of historical, modern and contemporary New Zealand and international art.