The Magic Flutes performance
Wednesday, 07 Aug, noon
All events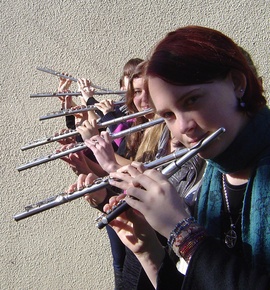 Performance. Free entry
Auckland Art Gallery
The Magic Flutes NZ – the University of Auckland Flute Ensemble directed by Dr. Melody Lin – is a recently established group of flute performance students. The ensemble will present a variety of exciting music, featuring a New Zealand composition 'From Silvered Tubes' by Associate-Professor John Elmsly (University of Auckland). This colourful work requires the players to use extended techniques like jet whistle and pizzicato tongue. This performance also includes the light-hearted 'Wedding Day at Troldhaugen' by Grieg and the melodious 'Views from Falls House' by Gary Shocker.
Wednesday 7 August - 12-12.30pm
Auckland Art Gallery
Auckland Art Gallery Toi o Tāmaki is New Zealand's premier art gallery. The Gallery leads the Auckland Triennial and was a founding partner in the event. It is proud to foster art practice through the commissioning of new artists' projects, and to present contemporary art in a national and international context. The multi award-winning Gallery building is also home to collections of historical, modern and contemporary New Zealand and international art.