Andrew Barrie and Melanie Pau – Paper Families, Paper Houses, Paper Cities
Wednesday, 31 Jul, 10 a.m.
All events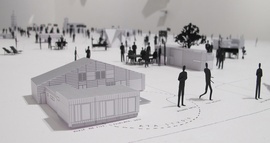 Talk. Free entry
Auckland Art Gallery
Andrew Barrie and Melanie Pau will speak about their recent series of architectural exhibitions that make use of innovative paper modeling techniques.
Beginning with Barrie's use of an ancient Japanese architectural drawing technique associated with teahouse design, they will present their installation at the 13th International Architecture Biennale (Venice), their collaboration with Michael Lin and Atelier Bow-Wow on 'Model Home' 2013, and the current project disaster-related exhibit in The Lab.
Andrew Barrie an Auckland-based practitioner and Professor at the School of Architecture and Planning, The University of Auckland. His design work has been exhibited in New Zealand, Australia, Japan and Italy, and has garnered numerous awards. Melanie Pau worked as project designer on Barrie's Venice Biennale, 'Model Home', and Lab exhibitions.
Auckland Art Gallery
Auckland Art Gallery Toi o Tāmaki is New Zealand's premier art gallery. The Gallery leads the Auckland Triennial and was a founding partner in the event. It is proud to foster art practice through the commissioning of new artists' projects, and to present contemporary art in a national and international context. The multi award-winning Gallery building is also home to collections of historical, modern and contemporary New Zealand and international art.