Krystina Kaza, Allan Macdonald & Jeanette Budgett – The Unstable City
Thursday, 25 Jul, noon
All events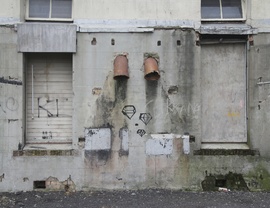 Talk. Free entry
Auckland Art Gallery
The immediate prompt for this project was the series of devastating earthquakes in Christchurch during 2010 and 2011 and Auckland City's policy to require certain building owners to assess their buildings and identify those at risk, however, 'The Unstable City' draws out a deeper sense of precarity in the project of the city.
The aim of this collaborative project is – through text, photography and mapping – to engage with questions of Auckland's architectural heritage and to draw attention to the scale of the potential loss of buildings and the communities that occupy them.

Auckland Art Gallery
Auckland Art Gallery Toi o Tāmaki is New Zealand's premier art gallery. The Gallery leads the Auckland Triennial and was a founding partner in the event. It is proud to foster art practice through the commissioning of new artists' projects, and to present contemporary art in a national and international context. The multi award-winning Gallery building is also home to collections of historical, modern and contemporary New Zealand and international art.